Project 2014 – Designing new melanoma therapies using bioinformatics
Research for Life Foundation has selected the promising work of Prof. Olivier Michielin, oncologist at Lausanne University Hospital. He focuses on the development of new bioinformatics technologies to design optimized compounds for preventive and therapeutic treatments.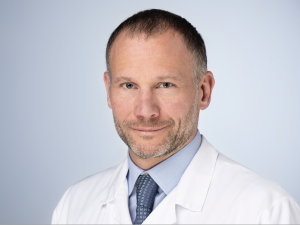 Prof. Olivier Michielin
 MD, Phd
Full Professor University of Lausanne
Head of Melanoma Clinic in Lausanne University Hospital (CHUV)
Affiliations
Head of Personalized Analytical Oncology
Head of Melanoma Clinic
Department of Oncology
Swiss Institute of Bioinformatics
Ludwig Institute, Lausanne, Switzerland
 This is a revolution. Immunotherapy can drastically change patients' prognostic and might open the door to curing cancers.
Prof. Michielin's research covers several area of translational oncology. More specifically, he develops new molecularly-defined therapeutic approaches based on original in silico techniques developed in his laboratory. Research on immunotherapy in oncology aims at providing not only ways to stop the progression of the tumours but also brings the hope to cure them in the foreseeable future.
Current research mainly focuses on melanoma, the most aggressive form of skin cancer, but the objective is to apply the same principles to different tumours such as lung or breast cancers.
Using bioinformatics and computer-based 3D molecular simulation, Prof. Michielin's lab works at modifying very precisely the structure and function of the receptor that will increase the T cell efficiency. The T cells' properties can therefore be optimised creating a population of "super killers".
To use these discoveries in the clinics, a patient will get injections of his/her own anti-tumor T cells modified with the optimized receptor – which can vary according to the tumor – to increase the natural immune response against the malicious cells and cause their destruction.
His team works in constant interactions with the CHUV, the Swiss Federal Institute of Technology (EPFL) and the University of Lausanne, making Lausanne one of the leading research centres in immuno- or cell-therapy along with other prestigious institutions like the Memorial Sloan Kettering in New York, the MD Anderson Cancer Center of the University of Texas or the National Institute of Health (NIH).
The Team of Prof. Michielin has pushed very rapidly their discovery of optimized receptors from in silico computer design to validation in test tubes and, finally, in a mouse model that confirmed the great potential of the modified T cells for melanoma therapy.
The project requires now more validation to move toward the ultimate goal, a clinical trial for melanoma patients planned for 2016.
Prof. Olivier Michielin
Prof. Olivier Michielin obtained a Masters of Physics in 1991 at the Swiss Federal Institute of Technology and a Medical Degree from the University of Lausanne in 1997. He pursued his PhD training under the supervision of Jean-Charles Cerottini (Ludwig Institute) and Martin Karplus (Harvard and Strasbourg Universities, Chemistry Nobel Prize Laureate 2013).
He was appointed Group Leader of the Swiss Institute of Bioinformatics in 2002 and became an Assistant Professor and Privat Docent at the Medical Faculty of Lausanne in 2004 and 2005, respectively. In parallel, he has trained as a medical oncologist and obtained his board certification in 2007 at the Oncology Department of Lausanne where he is currently heading the melanoma clinic. He was appointed Associate Professor in 2010 and full Professor in 2019.
Prof. Olivier Michielin is mainly focused on translational oncology, developing new molecularly defined therapeutic approaches based on original bioinformatics techniques developed in his laboratory, as well as melanoma clinical trials at the Oncology Department. In 2016, Prof. Olivier Michielin has been appointed as the Head of Precision Oncology at the Lausanne University Hospital.
Prof. Olivier Michielin – His career
What does being a researcher look like? Meet two lively and dedicated members of the Research for Life foundation team and follow their steps, on site!